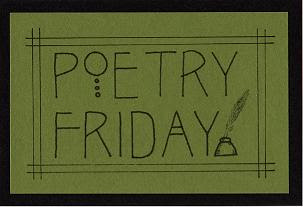 It's Poetry Friday, and it feels like ages since I've participated. It's good to be back! This week's round-up is hosted by Paul at These 4 Corners.
The poem I'm sharing today was written months ago, and while it's not a perfect fit for all of the seasonal concerts and performances, the presence in my Facebook feed of so many families going to hear the school band play or, in one case, watch a performance of the "Nutcracker on Ice," reminded me of it. (The link will take you to a Knoxville news story from 2013 with a photo of my friend Jason's son!)
Opening Night
by Keri Collins Lewis
My costume's on.
I know my part.
The songs are written on my heart.
I'm waiting for the show to start —
tonight is opening night!
The curtain's up.
The music soars.
We step on stage, the packed crowd roars.
This is a show everyone adores,
tonight is opening night!
We sing and dance,
The lights are bright
The acts fly by, our timing's tight.
We manage to get each line right,
tonight is opening night.
The closing scene,
our play is done.
We take our bows, the victory's won.
Who knew school plays were so much fun?
The thrill of opening night!