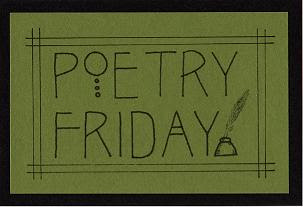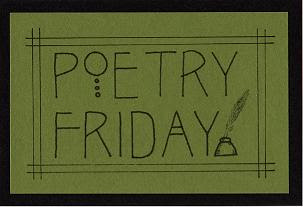 It's Poetry Friday and you are in the right place!! The Round-Up is HERE!! As I am on the road for work, please allow Mr. Linky to gather your information in my place. My sincere thanks for the effort you put into your post and your willingness to share it here today! You rock!

In the interest of full disclosure, I had this post prepared to launch on Thursday, and woke up to the news of Alan Rickman's death. Like many of you, I'm saddened by the loss of this talented actor, and grateful for his ability to transport me into magical worlds, to believe in good men who do the right thing, and to laugh and cringe simultaneously at the bad guy (the Sheriff of Nottingham).
Now, we'll return to our regularly scheduled program. [Edited at 8:34 p.m. CST because the bulk of the post was missing!] [Edited again because the comments are broken and I can't fix them — to comment please go here.]
***
What an exciting week in the world of children's literature! Get the full list of ALA winners here. Or, for a more enthusiastic take on it, read Jama's post!
If you have time, I'd like for you to share your thoughts about creativity and how you manage to live a creative life, guard the creative fire, or approach your work.
The reason I ask is because I recently read Big Magic: Creative Living Beyond Fear by Elizabeth Gilbert, copied numerous lines into a journal, but I often found myself thinking, "I wonder what the Poetry Friday family members think about creativity?" In my dream world we could all sit down for tea and snacks with Cornelius and have a rousing discussion.
Gilbert theorizes that ideas are circulating in the universe, looking for a willing partner to take them from idea into reality . . .and if you don't answer the knock when that particular idea is at the door, it will go and find someone who is willing. That is why people in completely different parts of the world end up doing similar things at the same time (and have for centuries) — the idea bumped around quite a bit and several people answered the knock.
She spoke about this concept in her TED talk (which has been viewed more than 10 million times!) and this book is an exploration of that idea. The illustration she used is a poet who would be outside working and along would come a poem and she had to stop and race it to the house where she could capture it — sometimes writing it backwards as if she had grabbed its tail and pulled it back to her. (Transcript here, this story is at 10:10.)
I loved that story, so I bought this book hoping I would find some ideas about living a less fearful, more colorful life. In terms of voice, it reads much like Gilbert's bestseller, Eat, Pray, Love. Conversational, funny, and very earnest, without the eyebrow-raising neuroses. At its heart, her approach to creativity is very much like Jane Yolen's BIC principle: butt in chair. Show up and do the work, and let the rest take care of itself. If you show up consistently, Inspiration will take you seriously and become your partner.
She advises a life of curiosity, of following breadcrumb trails regardless of the outcome. Reaction to your work doesn't belong to you. Your job is to stay open and stay in the game.
One piece of advice near the end of the book resonated with me. In the section on trust, Gilbert writes that people quite when things get "painful, or boring, or agitating. They quit as soon as they see something in their minds that scares them or hurts them. So they miss the good part, the wild part, the transformative part — the part when you push past the difficulty and enter into some raw new unexplored universe within yourself." So, don't quite too soon. Courage is needed the exact moment it stops being easy and fun. (Which is true about life in general, I think.)
An excellent NYT review is here.
Some of my favorite bits from the book:
Image: "We all know that fear is a desolate boneyard where our dreams go to desiccate in the hot sun." WOW.
Snarky girlfriend moment: "Argue for your limitations and you get to keep them."
Analogy: "Possessing a creative mind, after all, is something like having a border collie for a pet: it needs to work, or else it will cause you an outrageous amount of trouble. Give your mind a job to do, or else it will find a job to do, and you might not like the job it invents."
And finally, a found poem from the first page of notes I took:
Big Magic
Bring forth
treasures hidden:
creative living.
Courage!
Enchanted?
Yes!
Whether or not you've read this book, I welcome your ideas about creativity in the comments.