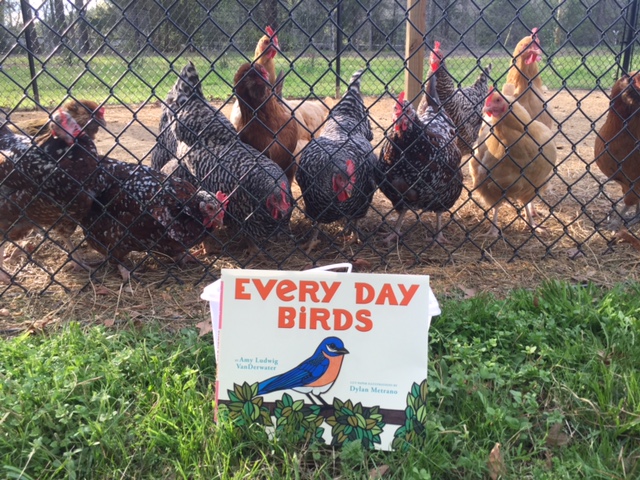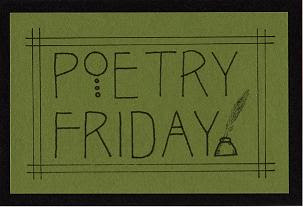 Happy Poetry Friday! Heidi is hosting at My Juicy Little Universe!
Look! Spotted in the wild, EVERY DAY BIRDS at Book People in Austin, TX!!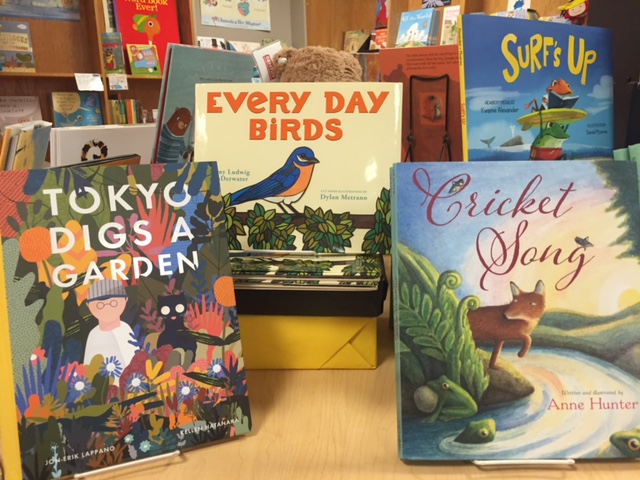 I'm thrilled to have Amy on the farm today, but have been so busy I delegated the interview to my chickens. (Please don't tell them both an owl and a hawk are featured in the book!)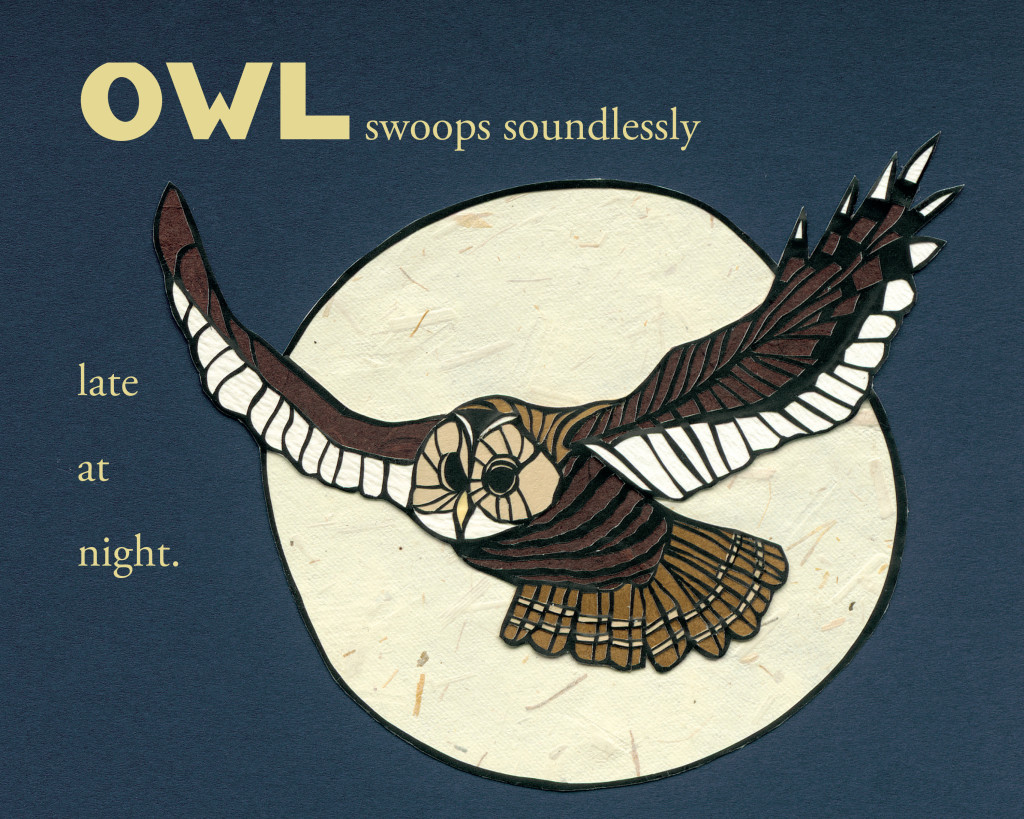 Their words are in blue. Amy's lovely (and patient) responses follow. My girls are a bit self-centered!
Amy! We are delighted to have you pull up a perch on the farm today. 
We're excited to hear your favorite bird is a chicken.
Oh? NOT a chicken?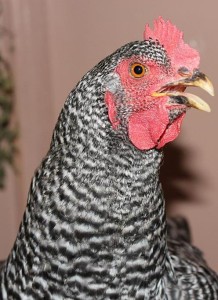 A chick-aDEEEEEEE, well that's a bird of a different feather altogether. We're a bit more, Rubenesque around here, shall we say?
Let's talk about EVERY DAY BIRDS, published by Orchard/Scholastic. Why did you want to write a book about birds without including chickens?
Oh, sweet girls!  Not everything a lass writes and thinks about can be related to chickens.  This book is about wild birds, not domesticated beauties like you.  But even though this particular book does not include a chicken, I have written a rhyming poem about chicks,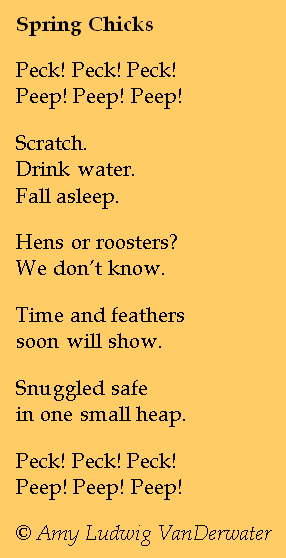 a found poem about chickens, and an essay about backyard chickens.  Too, I've drawn a metal chicken, and we have chickens here at home.  I love many chicken books including INTERRUPTING CHICKEN by David Ezra Stein, THE PLOT CHICKENS by Mary Jane and Herm Auch, and HENNY by Elizabeth Rose Stanton.
We enjoy Chicks & Salsa, by Aaron Reynolds & Paulette Bogan! And of course, The Little Red Hen!

How did you decide which birds to include in this book?
I started with the birds my husband has taught me about, birds we see around here in Western New York.  Then I thought about birds near the shore, birds near the city…  Because I could only include a few (20) birds in this short book, I chose wild birds that young children would be most likely to see in their daily lives.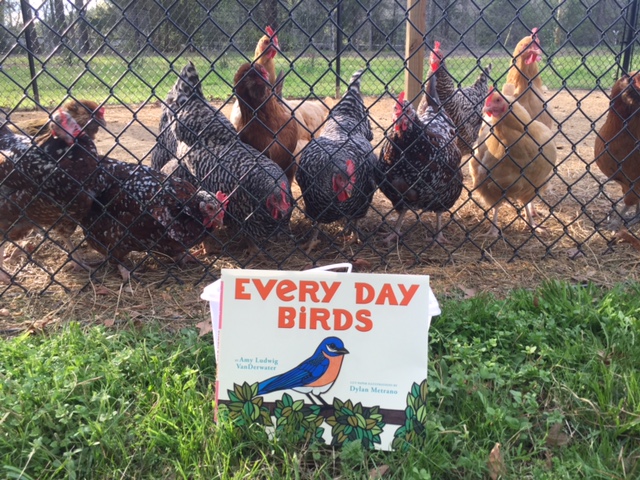 Did you first write a poem and then think it would make a good picture book, or vice versa?
I wrote this poem imagining it as a picture book, a picture book I wish I had owned when our children were just wee chicks themselves.
Have you ever thought about writing a book about chickens?
I have not.  But now I am thinking about it.  Thank you, ladies!
What was your favorite part of the publication process? Was it anything like laying an egg?
Well, as I have never laid an egg before, I cannot be sure.  However, there is certainly a bit of pain in the growing of a book and a great feeling of accomplishment when a book hatches.  My favorite part is often seeing artwork.  I adore Dylan Metrano's magnificent papercut illustrations in EVERY DAY BIRDS.
Did you like poetry when you were a little chick, that is, girl?
Why yes, I did!  This was my favorite poetry book back in the nest.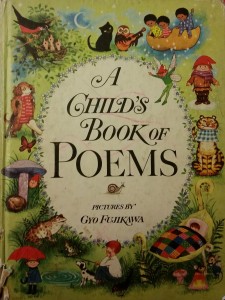 What was the most surprising thing you learned during the process of creating EVERY DAY BIRDS?
I am not sure, but I know that the more I write, the more I want to learn.  I am still reading bird books, more aware than ever how very little I know.  I could read bird books from now until the day I die, and I would still have so much to learn.  Writing this book, I also discovered how generous the birding community is with sharing knowledge.
How do you turn the chicken scratch of ideas into finished projects? How do you know when they're done?
Well, one thing I do is keep notebooks.  These notebooks of mine are very – no offense – chicken-scratchy, but they are the coops for my new ideas. 
As for knowing when a project is completed, one of my favorite quotes about writing is by Paul Valéry – "A poem is never finished, only abandoned."  I often keep tinkering with pieces on my own, even after they are published.  But if I never let them go, there would be no books, no readers, no cool visits with literary chickens such as this.
What else are you hatching these days?
My next egg-book is READ! READ! READ!, a collection of poems about reading, to be illustrated by Ryan O'Rourke and published by by WordSong/Boyds Mills Press.  I hope to see some sketches next month and cannot wait!
Will there be a sequel, such as "Every Day Birds: In the Rainforest"? Or other habitats? So many birds, so little time. 
Gosh, I don't know, girls.  I have considered EVERY DAY INSECTS, but there is nothing in the works to make EVERY DAY… a series at this time.  Perhaps you should write EVERY DAY CHICKENS.  You know, those animals in Doreen Cronin's CLICK CLACK MOO did some mighty fine writing.
Much gratitude to you, Collins Lewis Chickens, for spending time with me today.  Our family's chickens say "Bawk! Bawk!" to you, and I ask that you please give a warm feathery hug to wonderful Keri.  xo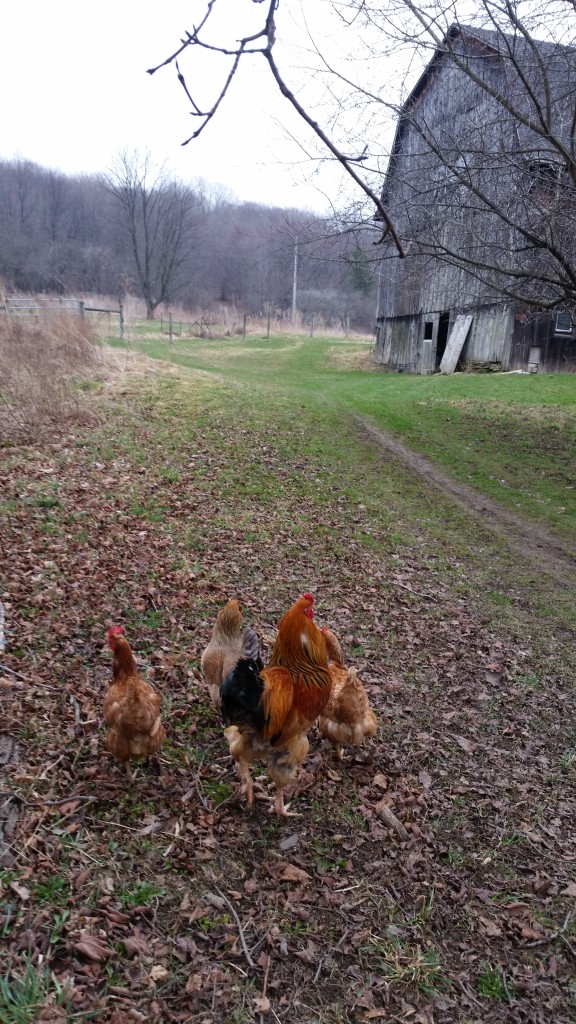 A special thanks to Amy for her enthusiasm for being interviewed by our chickens, who have now formed a book club, and to Brooke Shearouse, gracious publicity coordinator with Scholastic Inc.