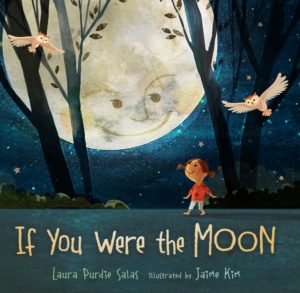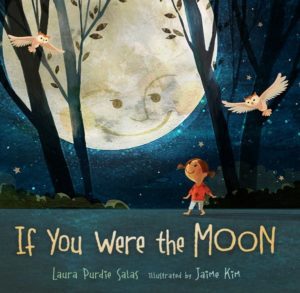 I have a confession to make: I really, really struggle with science. I'm the student who needed to have a visual model for everything so I could understand what was happening. You start getting into math that uses letters and processes that can't actually be seen and I'm cross-eyed with confusion. (Hmmmm, maybe that's why I'm a writer.)
So I was really excited to see an invitation from Laura Purdie Salas to check out her new book, due out in February, If You Were the Moon. Jaime Kim's illustrations are glorious.
In a playful tone, the moon explains its many activities — from dodging space rocks to reflecting light. Word play, clever metaphors, and simple similes give young children concrete, visual images for such abstract concepts as gravity and the movement of ocean tides.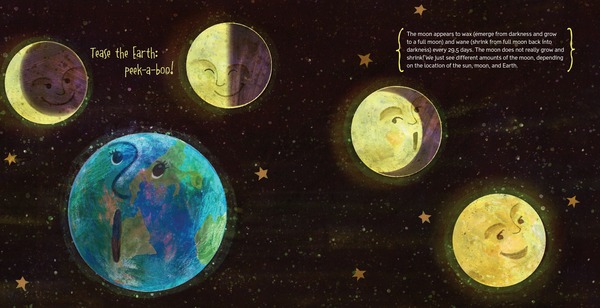 The poet in me would be perfectly satisfied with the moon's dialogue with our young heroine who oh-so-mistakenly accuses the moon of doing "exactly nothing," but the learner in me loved the moon facts on each spread.
Multicultural elements add a bit of social studies to this scientific picture book, such as the inclusion of traditions from the Ivory Coast and China. (Extra props for including one of my favorite songs, "Claire de Lune" too, Laura!)
On the whole, a sweet bedtime read aloud for younger children who are ready to hear the moon tell its story, with some added facts for older kids (or adults who are scientifically challenged, like me!) and for use in classrooms and libraries.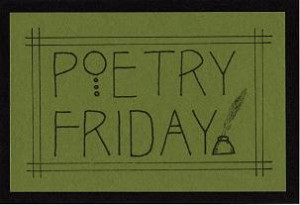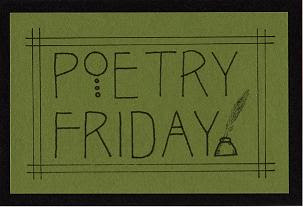 Violet Nesdoly is hosting this week's poetry party! My thanks to everyone who participated last week and made hosting so much FUN!