You know that feeling, when you pick up a new picture book, and just the endpapers alone have you swooning?
The Right Word: Roget and His Thesaurus did that to me.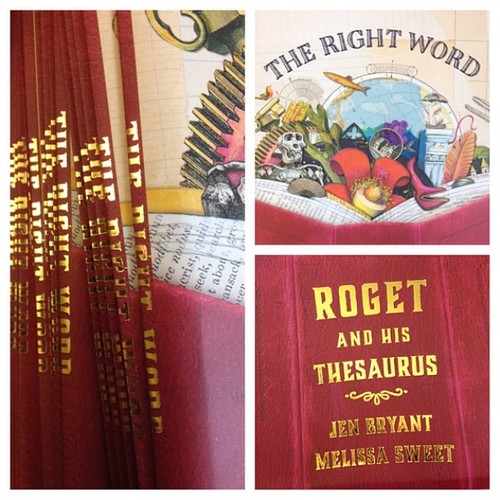 This picture book biography manages to have the grand narrative arc and engaging storytelling typically attributed to fairy tales or dramatic novels, and the person at the heart of the story is an introverted prodigy who calms himself by making lists.
Peter Mark Roget left his home in Switzerland as a very young child when his father died, and the family was constantly on the move. Making friends was hard . . .
"But books, Peter discovered, were also good friends. There were always plenty of them around, and he never had to leave them behind."
Ah, Roget, you are part of my tribe.
Bryant explains Roget's early fascination with lists of words and how he became a doctor at age 19. He practiced medicine in Manchester, then moved to London where he joined various societies dedicated to science. He became a popular speaker, and continued to work on his lists.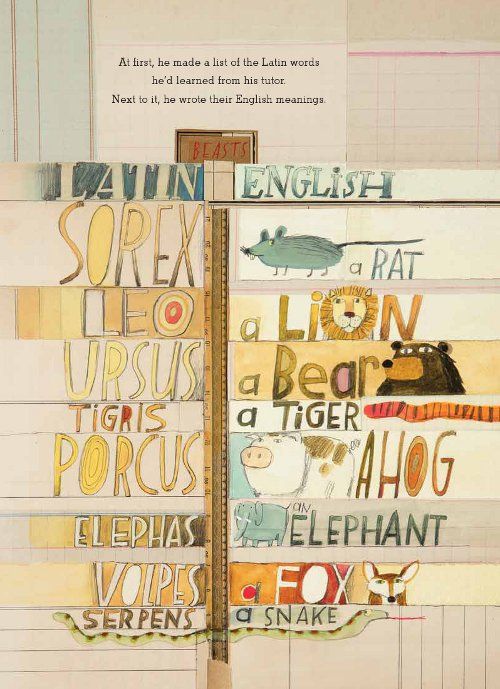 It wasn't until Peter married and became a father that his lists were seen by anyone else. His children encouraged him to publish his lists, because other, similar books were simply not as good as their father's. Thankfully, he listened to them.
In 1852, Roget's Thesaurus, which means "treasure house" in Greek, sold quickly and has been in print ever since.
Packed with informative text — including the proper pronunciation for Roget — the story itself is enchanting and loaded with fascinating facts that showed me how little I really knew about a book I've relied on for years.
But the art? Y'ALL.
Melissa Sweet got to hold in her hands Roget's original word book from 1805!! She used a combination of water color, collage and magic to create intricate illustrations that bring to life Peter's quiet wonder at the world around him. She incorporated his only surviving original list and sprinkles thesaurus entries throughout the book, along with witty bits of fictional dialogue for humor.
Oh, and the back endpapers? Different from the front. And so amazing I want you to be surprised, so I'm not telling you any more.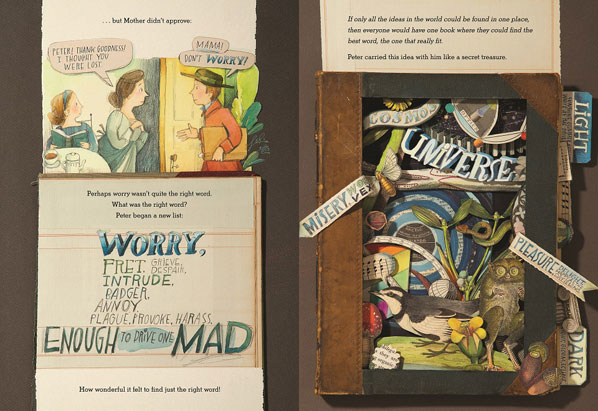 If this book doesn't win some sort of an award, there is no justice in the world.
If you are a reader, a writer or a lover of breathtaking children's books, buy it immediately. You will want to spend a lot of time examining the art and re-reading the text.
Read a delectable interview with Melissa Sweet at Seven Impossible Things Before Breakfast.
Or, check out this fine article by Publisher's Weekly.
Watch the book trailer and see how Jen Bryant finishes Mr. Schu's sentences at Watch. Connect. Read.