From lessons learned while riding on the back of a motorbike in Thailand to the importance of small, daily steps taken in pursuit of a goal, Dorcas Smucker shares vignettes of her daily life as a wife and mother, Mennonite woman, and writer in her latest book, Footprints on the Ceiling.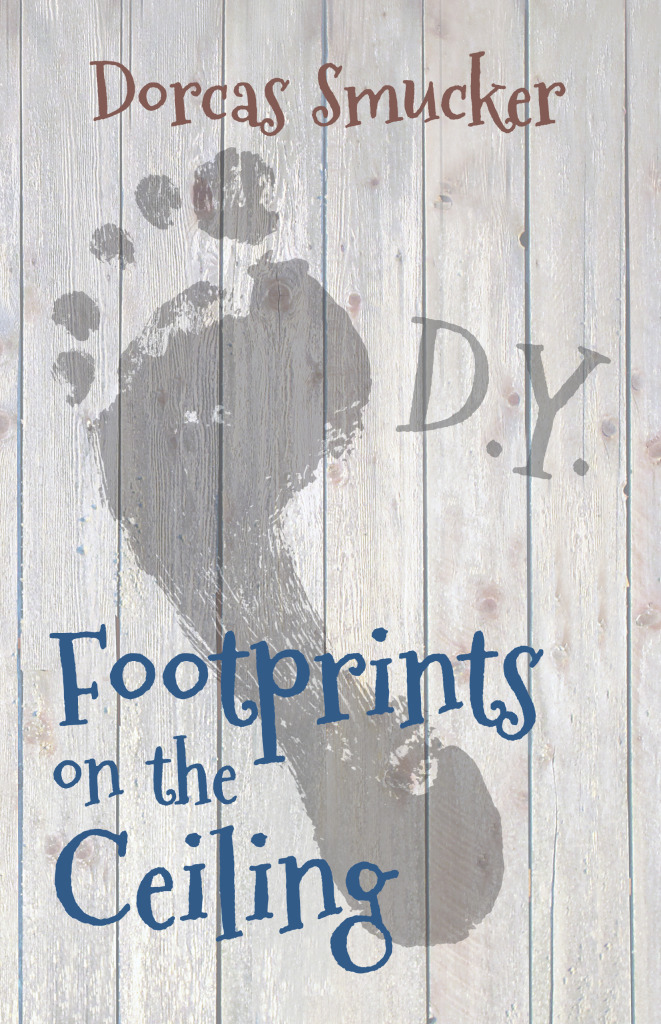 Dorcas writes a column for The Register-Guard in Eugene, Oregon, and this book is a collection of those columns, organized into thematic chapters, such as children, change, and travel. The columns are not reprinted in chronological order, so the ages of her children change throughout, but she always identifies how old they are to quickly place the reader in the story.
With self-deprecating humor and an eye for the deeper meaning in life's events, Dorcas shares insights into parenting, living her faith, and appreciating the lessons to be learned in even the most mundane tasks or events. This particular collection includes several stories about getting older, mothering adult children, and the wisdom gained from personal experience, which resonated with me personally.
In terms of storytelling, her typical style is to begin with a story or concept, take a side jaunt or go back in time to tell a related story from its beginning, and then tie it all together before concluding with a wry observation, a discovery, or a connection to a spiritual lesson. She's particularly talented at setting scenes with just enough detail about the characters and location to give readers a mental picture, but not so much information the story gets bogged down.
I enjoyed this window into her life so much I read more than half of it in one evening! One chapter I found particularly relevant to daily life but also to this time of year, is titled "Gifts Given Instead." In it, Dorcas challenges herself to be thankful for gifts given, gifts withheld, and gifts given instead. The things we take for granted, the things we complain about not receiving, and the blessings we were given instead of what we wanted. Gratitude is so important all year long, but with Thanksgiving on the horizon, we are all more focused on our blessings.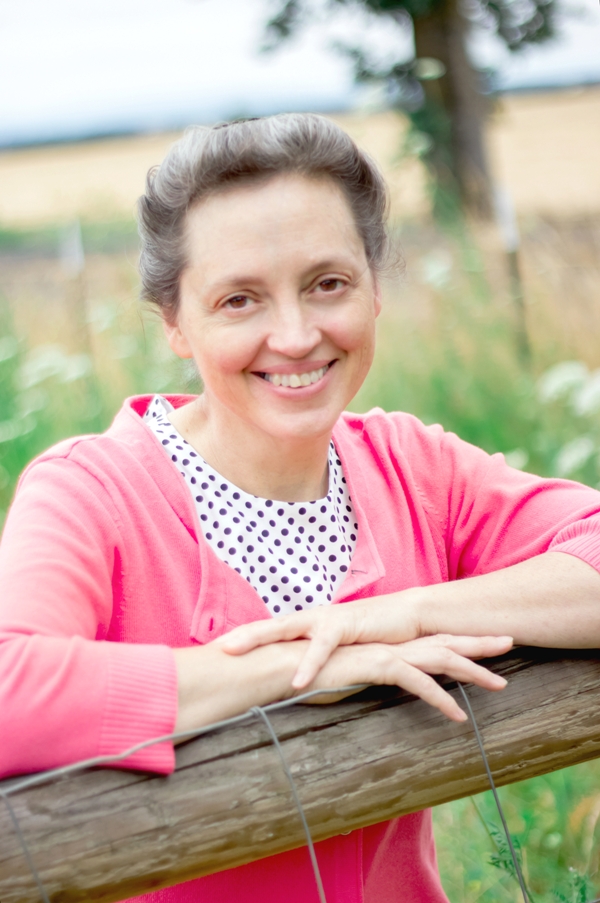 Dorcas has graciously provided a signed copy for me to give away as part of a blog tour. To be entered in the drawing for a free copy of Footprints on the Ceiling, in the comments, please share one of your blessings, whether it's something you appreciate but often take for granted, an unanswered prayer, or what you received instead of what you wanted. I'll select a winner on the Friday after Thanksgiving. (Because somehow, I think I'll have time then!)
She blogs at Life in the Shoe: http://dorcassmucker.blogspot.com/ — if you visit, you can see all of the other bloggers posting their thoughts on her new book.
This book would make a delightful gift for mothers of all ages, as well as anyone who appreciates good storytelling. Footprints on the Ceiling is available for $15 per book, postage included.  You can mail a check to Dorcas Smucker, 31148 Substation Drive, Harrisburg, OR 97446.  US addresses only.  For international orders, email Dorcas at [email protected].
But wait, there's more! Dorcas agreed to a brief Q&A for Keri Recommends readers! Read on to get a sense of the humor and heart in this gentle writer's voice, and find out how one letter can make all the difference! (Stick with us and you'll get a tasty recipe, too!)
1. Tell me about how you got started as a columnist 14 years ago, and how your column has evolved over time.
I always say it was a "God thing," because we all know if we were looking for a columnist for the Register-Guard, we would not look for a Mennonite minister's wife from Harrisburg.  The RG has an occasional feature called Write On, where anyone can submit an essay and they might choose to print it.  I decided to try it, and to my joy they printed what I wrote, so I sent a copy to my mentor and friend, Ilva, who had always encouraged me to write for a bigger audience.  Ilva wrote to the paper and said they should feature this author more often.  The new features editor was looking for new material, and Ilva's letter sparked his interest, and he called me up and asked me to write once a month.
It took a long time to get a feel for what my editor wanted and what people would connect with.  My editors over the years have given me lots of grace, and I've learned that I'm going to make the occasional misstep, and it's ok.
2. Your columns are set in definite times and places, yet have a universal feel. How do you determine what life stories to include and which events or stories to exclude, especially given that your family is often involved?
Choosing what to write about is the hardest part of the process.  There might be plenty of things going on, but the reader is going to be asking, "So what?" So I am always aware that it needs to be more universal and meaningful than just, "Today I did laundry and fed the calves."  Generally, I make a list of every possible topic and choose the one that's most likely to produce 1200 words of usable material.
3. You grew up Amish and are now Mennonite, and you write about being mistaken for a nun. What is one thing you wish people understood about your faith?
I wish people understood how human we are, and how normal, whatever that is.  Also, that there's quite a variety of flavors and outlooks and levels under the Amish/Mennonite umbrella.  That we might be "nice" but we are firm in our beliefs.  And that reading Amish novels is a terrible way to try to learn about the Amish.
4. What challenges you the most about being a writer? A mother? A human being?
I think it's that journey of moving from lies and misconceptions to Truth, from confusion to clarity, from looking to people and things for purpose to looking to God, from selfishness to loving God and others.  It encompasses every role, every relationship, every job, every stage of life.  Maybe that's kind of vague.  It's always about the heart.  What am I REALLY looking for here?  What is really the truth?  What am I trying to control that is totally out of my control?  What is God wanting me to do here?
5. What's your number one comfort food, and do you have a recipe to share?
I've been doing Trim Healthy Mama for a while, and I love to make an obscenely-high-fat shake for breakfast, with natural peanut butter, a big blob of cream cheese, almond milk, protein powder, some ice, and maybe even a bit of cream.  It makes it easy to swallow my vitamins, and satisfies me for hours.

I also like cheeseburger soup for winter suppers, and the family loves it as well.

Fry 1 lb. hamburger.  Set aside.
Stir-fry 2 T. butter
1 1/2 cups each grated carrots, chopped onion, and chopped celery
2 t. each dried parsley flakes and dried basil

Add to veggies:
6 cups chicken broth
8 cups diced, peeled potatoes
ground beef
Simmer until potatoes are tender.

Make a white sauce with:
6 T. butter
1/2 cup flour
3 cups milk
Add to potatoes and heat through.

Add:
1 1/2 t. salt
1 t. pepper
8-16 oz. Velveeta cheese
stir until cheese melts.
Blend in 1/2 cup sour cream.

Feeds 6-8 people including teenage guys.


6. Best bit of parenting advice you've ever received?
It's the anti-shame message:Tell yourself:  this is normal.  It's what children this age DO.
That perspective has helped me stay calm during meltdowns and misbehavior and to deal with it sensibly,quietly, and privately, rather than being horrified and embarrassed.
I just wish I had learned it a lot sooner.
7. Favorite Bible verse?
"There is therefore now no condemnation to them which are in Christ Jesus. . ." Romans 8:1