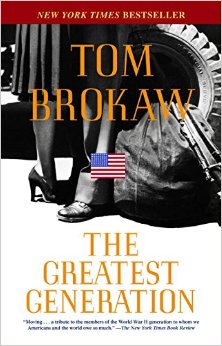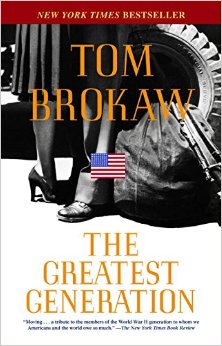 When I got down to the last two books in my FOLP series, I couldn't choose between them, so I started both. I finished Tom Brokaw's The Greatest Generation one day last week during my lunch break. This bestselling book about ordinary people who grew up during The Great Depression and came of age during World War II is divided into thematically arranged sections, and each chapter typically features one person, and occasionally two or three, if their stories are closely tied. Brokaw is the consummate journalist, and he lets each subject's own words carry the weight of each chapter.
(The first chapter is available online if you'd like a peek.)
What comes through clearly, beyond Brokaw's incredible respect and admiration for people he knew and people he met, is the humility and dedication of those who served. They were dedicated to their families, to their sweethearts, to their country, to their brothers-in-arms, and when they returned, to their communities. Responsible, frugal, hardworking, and loyal — characteristics that many of us aspire to today and despair of in younger generations (or maybe that is just me!). Most of them didn't talk about the war, and when asked, felt they had done their duty as many had, they didn't deserve any special treatment.
From women who loved and lost, to those who were able to pursue careers because of the opportunities the war created, I particularly enjoyed reading about the women Brokaw included in the book.
And of course, I called my 95 year old granny! She was surprisingly blase about it, though given the fact she has dementia perhaps I shouldn't be so surprised. She said, "Oh, I didn't lose a husband, or a father, or a brother, or anyone close to me the way some did, so it wasn't that bad." I asked her if she remembered rationing, and she said, "I remember something about little coupons or stamps. You couldn't get a lot of certain things, like sugar." But that was it.
As for my grandfathers, I believe my dad's dad worked at Moffett Air Field in the Sunnyvale, CA area. (I learned this as a teen when, after reading The Grapes of Wrath, I called to see if my Okie relatives had endured such tragic treatment and was assured they had not.) My mom's dad worked for Texaco in the oil fields. Were they too old to be drafted? Was their work considered valuable to the cause? I have no idea.
The Greatest Generation is one of those books I read because I thought I should, and I'm glad I did. I plan to offer this copy to one of the young people who hang around the house, the one who enjoys history. He's already responsible, hardworking, frugal and loyal, so I think he'll like reading it.