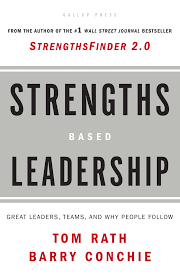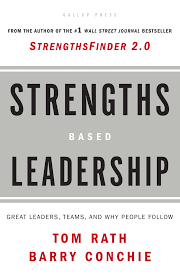 "If you focus on people's weaknesses, they lose confidence."
The main premise of Rath & Conchie's best-selling book, Strengths Based Leadership, is building on existing strengths increases the capacity of leaders and teams to work effectively, harmoniously, and profitably.
They had me at the opening sentences:
"If you spend your life trying to be good at everything, you will never be great at anything. While our society encourages us to be well-rounded, this approach inadvertently builds mediocrity."
This concept is a challenge to those of us who have a tendency to be more like hummingbirds than jackhammers (see Elizabeth Gilbert's book Big Magic or watch her deliver her speech on SoulTV). However, this book concedes that most people are a blend of the four domains of leadership strength: executing (getting things done); influencing; relationship building; and strategic thinking.
The ideal team is a blend of people who excel at different levels in all of these domains — individuals should not be well-rounded but teams should be.
Within each of these four domains, the authors identify 34 themes. They then offer four case studies with leaders who have different strengths. Each case study details how that person's strengths propelled him or her to success in the workplace, often against the odds or popular wisdom.
I particularly enjoyed reading about what strong teams have in common:
Conflict doesn't destroy strong teams because strong teams focus on results.
 Strong teams prioritize what's best for the organization and then move forward. (They set aside ego and self-interest to contribute to the greater good.)
Members of strong teams are as committed to their personal lives as they are to their work. (Though the idea here seems to be that of focusing 100% on family on the weekend and 100% on work during the work week.)
Strong teams embrace diversity.
Strong teams are magnets for talent.
The third section of the book (before the huge section of supporting materials) is about a study conducted about why people follow and what followers expect from leaders: trust, compassion, hope, and stability. Honesty and integrity are required for leaders, and without trust, followers can't follow. Gallup results indicate people are simply not engaged in the organization if they don't trust their leaders. Compassion is tied to the idea that leaders care about employees as individuals, or at least convey a positive outlook. Who wants to follow a negative person?! In this context, hope is a leader's confident vision of the company's future.
While reading this section, I found myself thinking back over the different leadership styles of people I've worked with, and how these factors influenced my engagement in those organizations.
Once I finished the book, I used the access code to take the online StrengthsFinder assessment. It's 177 paired descriptors, and it allows 20 seconds for a choice to be made.
Here are my 5 strengths:
Learner
Harmony
Responsibility
Intellection
Achiever
No big surprises, really, and those strengths fall into Executing (3,5), Relationship Building (2), and Strategic Thinking (1,4).
From here, I'll print the reports, review the related material within the book, and use it the information to set goals for myself for 2016.
Related to that, I recently read about James Clear's annual integrity report and how writing about personal values and relating those values to each day's events positively impacts . . . just about everything.
Now, if I could combine the strengths information with the values information …
This book review is the fourth and final in a series of reviews written as part of my annual performance goals for my job with the MSU Extension Service. The other reviews are here, here, and here.