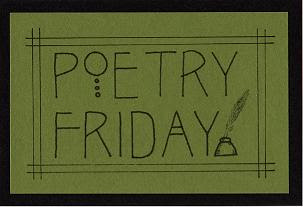 It's Poetry Friday! Tara is hosting at A Teaching Life.
Thanks again to everyone who stopped here — sometimes more than once! — to share your links and your thoughts on creativity. You are welcome to see what others have posted and add to the conversation here. Related to the "spurts" or "butt-in-chair" thread, I had a chat with a dear friend on Monday and she spoke about the importance of daily investment in your gift, your vocation, your passion. As she pointed out to me, "Even if it's only a sentence or two, over time it adds up."
I picked up Reichhold's haiku book again this week, and she talked about different ways of organizing one's body of work. From index cards filed by season to elaborate databases with thematic words cross-referenced, her ideas ran the gamut from simple to complex. Many of you have been writing far longer than I have — how do you organize your poems? For example, Amy has organized by topic and technique. But what about those you haven't published online or anywhere else? I'd love to hear about your systems. 🙂
Today I'm sharing a poem I wrote this week, inspired by the rapid growth of paperwhites I planted in bulb form just 2 weeks ago. The photo is not stellar, but it's mine and I couldn't find anything online of this particular stage in the process.
Spring *will* come!