My sister knows me well. Though "The Princess Bride" has never been her favorite film, she surprised me with a copy of Cary Elwes' behind-the-scenes look at the making of this fun movie.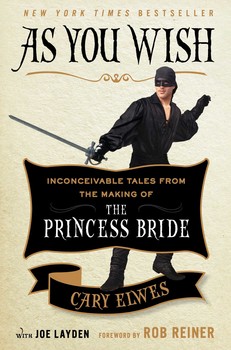 If you like the movie, this is a must read. Elwes shares not only his personal experiences, feelings, and thoughts about the process — from audition to anniversary celebration, but also insights from various members of the cast, director Rob Reiner, and even the original book's author, William Goldman. You'll get the scoop on working with Andre the Giant, the perils of working with real swords, and what happens when male ego and an ATV collide.
The famous actor-turned-author has been doing a book signing tour — about 2,000 people showed up at Powell's. Lucky ducks.
The book includes some great photographs, and the overall sense I got from this memoir is that they all had the most marvelous time and look back on it with a sense of wonder and gratitude for having been a part of it. With all the nastiness in Hollywood, it's quite refreshing.
Thanks, Sister! I loved it!