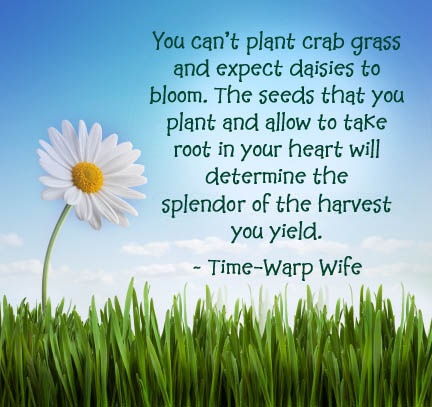 We are all familiar with the concept of reaping what we sow. For some reason I always think of sowing wheat or corn, which may explain why it's been so hard for me to truly internalize this concept. Then one day I saw this quote on FB and it has really stuck with me. Some days would find me chanting, "No crab grass. Just daisies. No crab grass. Just daisies." It's easy to get stuck in a negative mental loop, to think that "venting" is going to make me feel better (it doesn't, usually), to focus on the imperfections in myself and others and miss all of the wonders and blessings.
So, my resolution/#nerdlution/one little word for 2015 is DAISIES.
In terms of #nerdlution, I have 50 days to make a habit of planting daisies. I have created a list of 50 names, and it's my goal to plant a daisy of some sort in the lives of each of these people for the next 50 days. Each one of them blesses me in some way, brightens my life like a daisy. So I'm determined to be sure they know how much I appreciate them, and in focusing on that, I will train my brain to see the daisies, not the crab grass. Make sense? (Read more about #nerdlution15 at A Year of Reading.)
In some ways, it reminds me of a bulletin board in the student union when I was in college. If I recall correctly, we simply called it the "I like" board. One of the professors provided slips of paper, and anyone could post an "I like" message. It could totally make your day to find an "I like" note on that board.
I need to spend more time focusing on the stuff I like, the daisies growing profusely right under my nose, and stop growing such a fine crop of crab grass.
Here's to a fragrant bouquet in 2015.