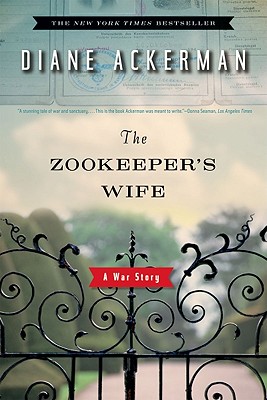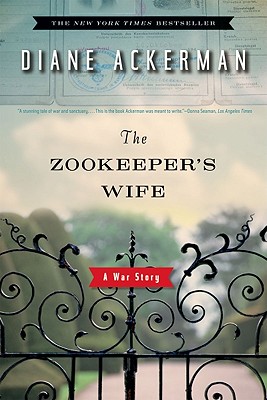 In a city torn apart by war and German occupation, a nearly destroyed zoo became a "Noah's ark" to a steady stream of Jews and others attempting to escape the Nazi's determination to cleanse the human race. Jan and Antonina Zabinski, the zookeeper and his wife, dedicated years of their lives to secretly serving in the Warsaw Underground and saving the lives of both friends and strangers.
The Zookeeper's Wife, by Diane Ackerman, is an account of those years told primarily from Antonina's point of view, because kept detailed diaries of her daily struggles. Though the zoo animals had been relocated or killed outright, the Zabinkskis used various animal shelters and Nazi-friendly schemes, such as community gardens, a pig farm, and a fur farm on the zoo grounds, to hide people en route to other safe havens, or to shelter them for extended periods of time. Throughout the story, Antonina's affinity for animals and ability to communicate with people on an almost mystical level saves the day. Her ability to manage the constant threat of discovery with her desire to maintain a sense of normalcy and peace within her home is extraordinary.
Ackerman is known as a nature writer; she is also a poet and children's author. As such, her writing is most compelling when discussing the zoo, its quirky inhabitants, and the animals that moved in and out of the villa as pets. Though not an historian, her handling of this historic account is deft, filled with research gleaned from numerous sources and told in a narrative style. She includes notes and a bibliography, and tells readers up front how she manages direct quotes from Antonina's diaries. While readers know from the outset that the Zabinski family, which includes 2 children, survived the war, Ackerman maintains the sense of suspense related to their day-to-day uncertainties and fears. I liked that the author paints a realistic picture without going into graphic details about some of what they saw and experienced, which included the horrific conditions within the Warsaw Ghetto and its systematic destruction.
The Zookeeper's Wife was on the NYT Bestseller list and won the 2008 Orion Book Award, given annually by the editors of the environmental magazine to "books that deepen the reader's connection to the natural world, represent excellence in writing, and that we believe Orion readers will enjoy." Ackerman has written numerous other books, primarily about the natural world and the role of humans in it. Her memoir was nominated for the Pulitzer.
This book is of interest to readers who enjoy learning about world history through the smaller lens of personal experiences and narratives, who are fascinated by animals and the history of zoos, and who enjoy stories of determination and survival. The overarching theme of this story is kindness, of risking everything for the sake of giving someone else the chance to live.
If you're interested in having this copy, say so in the comments.
So far I'm seven books into my "Friends of the Library Project," reading books I bought but let sit on the shelves. Just a few more titles and my project will be finished!