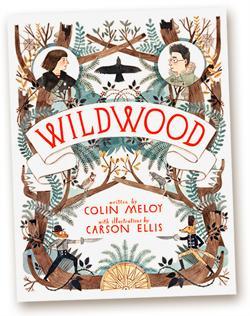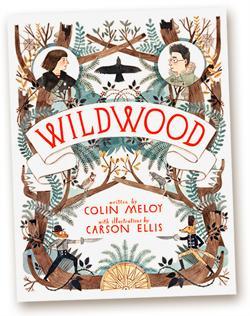 Last summer when I was in Portland, I fell under the spell of a recommendation at Powell's.
The book: Wildwood, Book I in a trilogy called the Wildwood Chronicles, written by Colin Meloy and illustrated by his wife Carson Ellis. Book 2 launched in 2013, and Book 3 was just released in Feb. 2015. (For those of you who, like me, don't like to start series before all the books are out because you just *hate waiting* — huzzah! No waiting!)
What I liked: it's a creative and somewhat unusual fantasy, with a very clearly delineated and described magical world that exists on the edge of Portland. When I say "magical," it's not in the Harry Potter sense, but rather a mash-up of mystics, talking animals, muskets and Howitzers, black magic, Robin Hood, Alice in Wonderland, and the Lord of the Rings. Meloy doesn't shy away from unusual word choices — this book could be a fun read-aloud (it tied for the 2012 E.B. White Read-Aloud Award) and springboard for vocabulary building.
The basic plot: Prue's baby brother Mac is kidnapped by a murder of crows and she is determined to rescue him. She is followed by a boy from school, Curtis, and their paths diverge early on in the story. Alexandra is the nemesis responsible for the kidnapping, and ultimately, readers discover, Prue's existence in the first place. The story is told in 3 parts, each involving encounters with friends and foes, battles, bandits, and bizarre touches, such as badgers pulling rickshaws and a malevolent ivy plant that will destroy everything in its path.
What I didn't like: It was hard for me to get over the fact that the book opens with a toddler being kidnapped by a murder of crows and the parents don't catch on. Yes, fanciful, but scary/dark. The fact that the crazed widow of a former ruler has mustered an army of coyotes intent on sacrificing the child to The Ivy, along with scenes of torture and battlefield deaths, would have me steering this title into the older range of the middle-grade bracket for which the book is intended. It dragged in places and I skipped paragraphs because the author got too caught up in descriptions/minutiae.
My opinion: folks who enjoy fantasy will like it. I got a sense that the world was very real to the book's creators, and their confidence in that world allowed them to create something not wholly new, but not wholly derivative either. The book was on the NYT Bestseller list for 2 weeks and has won several awards.
Meloy is also known as the founder of the band Decemberists, and Ellis is the artist responsible for illustrating The Mysterious Benedict Society and other children's books.
Wikipedia has a thorough treatment of the reviews (both negative and positive) and a story summary. The official website includes video interviews with Meloy and Ellis, song playlists for each novel, and book excerpts.