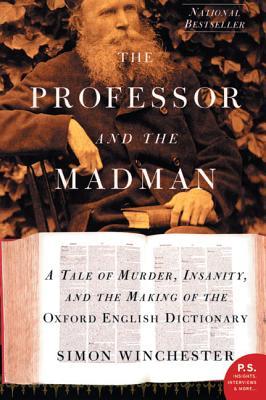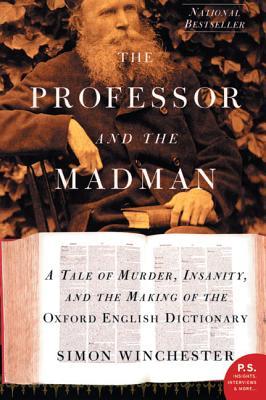 The first completed book from my Friends of the Library Project is The Professor and The Madman, by Simon Winchester.
Originally published in 1998, this title (known as The Surgeon of Crowthorne in Britain) was the first of Winchester's books to hit the NYT bestsellers list and sell millions of copies. His experiences as a journalist shaped his ability to conduct detailed research and weave primary source research into a compelling narrative.
Though on occasion he takes some liberties for the sake of dramatic storytelling, Winchester deftly places the reader in Victorian England, Civil War-era America, and many other settings to follow the paths of two men whose work resulted in one of the crowning achievements of the English language: the making of the Oxford English Dictionary. It took 70 years and 20 volumes, because it includes, not only definitions, but each word's first reference in printed literature, and a sentence from literature to illustrate each word's various meanings. It also aimed to include *all* words, not just those deemed significant, as previous dictionaries had done.
Sounds like it would be boring? Well, this nonfiction book reads like a novel and has it all — murder, mental illness, academic minutiae, Victorian grandiosity, and an order that alternates between the tale's two main characters, James Murray and Dr. W.C. Minor, until the denouement. While both are billed as protagonists by Winchester, it is the drama of Minor's life that drives the story to its sad, yet in some ways, triumphant conclusion.
It even has an incredibly shocking twist right at the end that made my jaw drop, even as I understood how it could happen. (It's not for the faint of heart nor queasy of stomach.)
It's a story of a thirst for knowledge, and how James Murray's relentless pursuit of it resulted in spending 40 years of his life steering the ship that carried untold millions of slips of paper into the safe harbor of a colossal publication.
It's also the story of a young man plagued by a paranoia* so acute he spent about the same number of years in an asylum, only released when he was so old and frail his family persuaded authorities it was safe to release him so he could die at home.
But really, it's a story of redemption, and how Minor, a madman, became one of the most prolific and valued contributors to the dictionary.
*Warning: some aspects of Minor's tale are graphic in nature. For those of you with precocious readers in your families, I recommend you read the book first.
Here's the rub: if you want a nuts-and-bolts story about the dictionary itself and its making, you will hate this book. If you want a straight linear narrative, a "just the facts ma'am" history, you will hate this book. If you want footnotes, a bibliography, and citations galore, you will scream in agony. (In fact, you can read all of these reactions, thanks to the glory of reviews on Goodreads and Amazon.)
I'm glad I read it, because I learned a lot about a variety of topics, especially the OED.
If you'd like my copy, leave a comment indicating you'd like to be included in a drawing (U.S. addresses only), and I'll choose a winner Sat. June 6. by noon.
If you've read it, I'd love to hear what you thought of it.